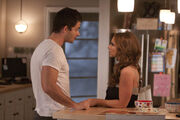 Kyle Parks, played by Brian Hallisay,  (recurring role, episodes 1-6; main role, episode 7---present), Riley's husband and Evan's brother, who ran away from his family.
Section heading
Edit
Backgroud
He was supposed to go pro in football, but injured his knee which stopped him from doing so. Because of all the pressure put on him by his family to be able to provide, he ran away from home thinking it was what's best for everyone.
Section heading
Edit
Write the second section of your page here.